Medical Device Sector Review Download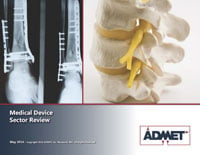 Please enter your basic contact information below. Upon completion, you will be able to download a PDF copy of our Medical Device Sector Review.
This report covers topics affecting the sector including:
Slowing Growth: A Statistical Look at the Medical Device Sector
Environment Update: A Drag on the Industry
Countering Margin Pressures: Spotlight on Supply Chain and Internal Processes
Transparency Fuels Emergence of Value-Driven Market
Great Attention to Quality: Device Recalls Increase
Product Trends: Focus on Patient Experience and Pragmatic Cost Cutting
And comments on the future of the sector by Abbott Laboratories, Medtronic, Stryker, and St. Jude Medical.
All contact information provided is kept strictly confidential.
Starred items are required fields.