Education Testing Review Download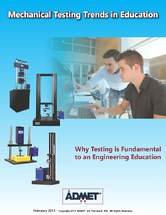 Please enter your basic contact information below. Upon completion, you will be able to download a PDF copy of our Education Mechanical Testing Review.
This report discusses the importance of mechanical testing and its role in engineering education. We've gotten insights from leaders in education who are utilizing mechanical testing to improve the student experience while continuing to drive advances in materials science. Included are profiles on the following organizations:
Harvard-MIT: The Karp Laboratory for Advanced Biomaterials
Northeastern University Department of Civil & Environmental Engineering
Northeastern University Department of Chemical Engineering
University of Iowa Department of Biomedical Engineering
UMass/Lowell Department of Plastics Engineering
You will also find case studies detailing our past success with three education customers: UMass Medical School, Rhodes State College, and Alfred University.
All contact information provided is kept strictly confidential.
Starred items are required fields.
Download our Education Testing Review Today!